Die charismatische Sängerin und Autorin der Lyrics von "Fool's Island Project"
Rosivita im Mica-Interview mit Michael Ternai über Kunst in Progress
Rosivita follows her own path between rock and chanson. Her voice might remind you of singers such as P.J. Harvey, Patti Smith and Lotte Lenya. Her lyrics are angry but also poetic and ironic, sung in German and English. Rosivita forms a team with composer and producer Klaus Karlbauer who does not hide his roots in classical music, "he knows his Kurt Weill!" Nachtblau is designed to be played live in a classical rock formation including Hammond organ and alto clarinet & featuring jj smith on his "outlaw country guitar".
Let's get lost! – Essay ( Thomas Miesgang )
Die Multimedia-Künstlerin, Performerin und Sängerin Rosivita inszeniert sich gerne als dornröschenhafte Prinzessin zwischen Sexyness, Weltveränderungsgestus und Opferrolle. Mit ihrem Debutalbum Nachtblau beweist sie als Rockperformerin poetische Qualitäten. Es ist eine gediegene Rockplatte ohne Ecken und Kanten mit Indiebewusstsein, die trotzdem fordernd sein kann. Gesungen in Englisch und Deutsch:
Bescheidenheit ist keine Zier – Falter 20 / 06 (Tiz Schaffer)
Nachtblau deutet den Stoff des Dornröschenmärchens mit den Mitteln von David Lynch und mutiert in der Liveumsetzung unter dem Namen Nachtblau ist die Farbe meines Zorns zur Performance, die weit über den klassischen Konzertrahmen hinausgeht:
Dornröschen blutrot – Falter 12 / 06 ( Gerhard Stöger )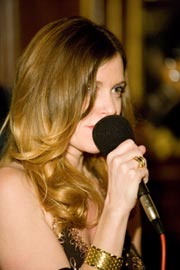 Fotos: Michael Rosenkranz, Klaus Karlbauer
Archive:
Monkeymusic
Download Zone